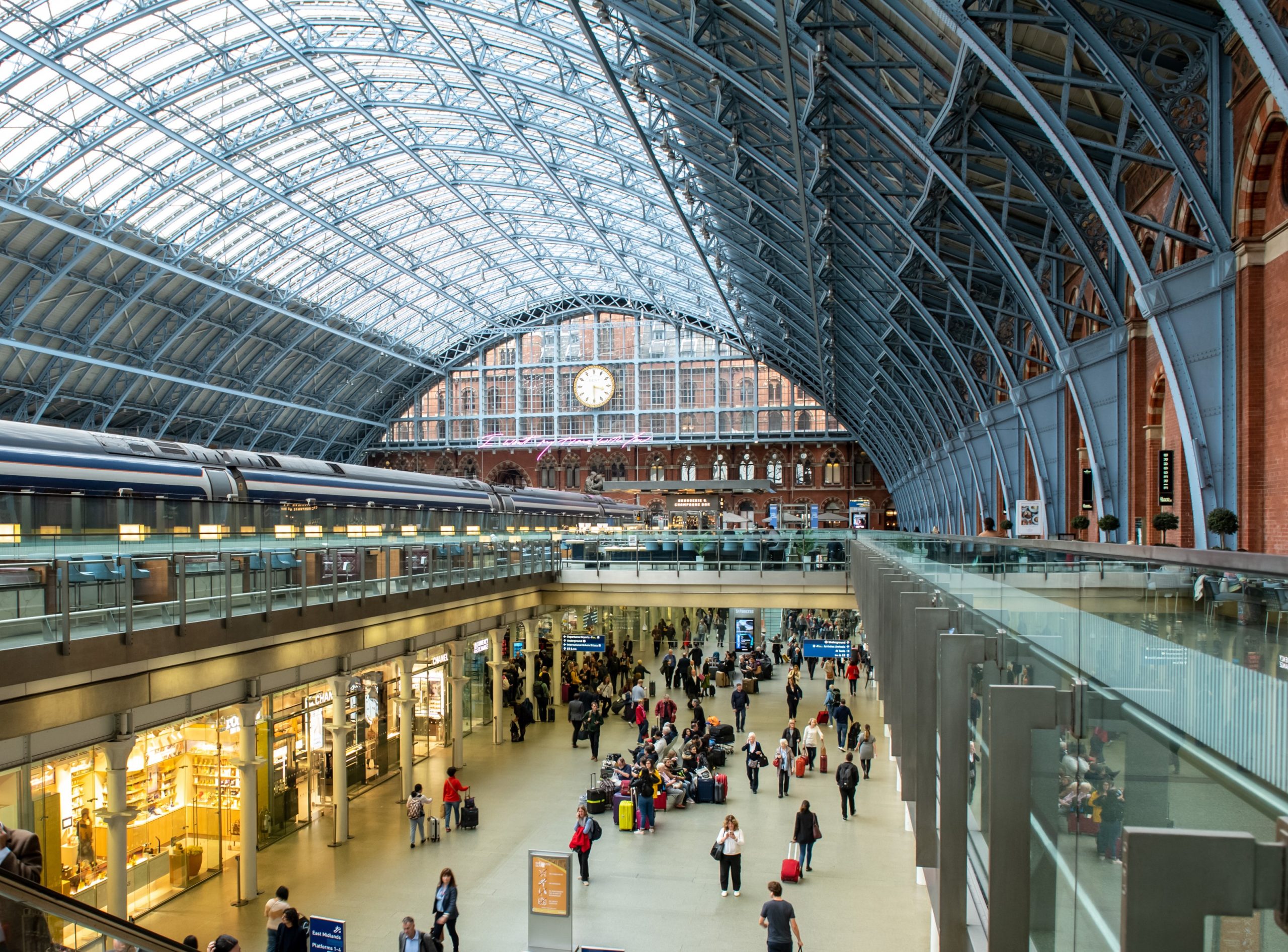 Case study HS1
The UK's first high-speed international railway line
High Speed 1 (HS1) is the UK's high-speed railway link to the Channel Tunnel. It supports high-speed domestic trains in South-East England and direct international trains to Paris, Brussels, and Amsterdam – providing the UK's most sustainable connection to mainland Europe.
Investment
HS1 has a 30-year concession to finance, operate, and maintain all 67 miles of the UK's first high-speed railway – supporting domestic trains that run at up to 230km/h, and international trains at up to 300km/h. 
It is also responsible for St Pancras station in the heart of London's technology district. Originally built in 1852, London St Pancras International has been totally re-imagined to handle modern high-speed trains and to provide a world-class retail and food & beverage offering. HS1 also oversees the stations at Stratford, Ebbsfleet, and Ashford, and the car parking at all four stations. 
HS1 is the Green Gateway to Europe, providing the UK's most sustainable connection to the continent, for example the train from London to Paris produces approximately 90% less greenhouse gas emissions than flying*. It has been recognised at a ministerial level for its pioneering work to decarbonise rail (including upgrading the network to support regenerative braking). 
A group of funds advised and managed by InfraRed acquired a majority stake in HS1 in 2017. Project revenues are contractually linked to RPI for the entire concession length, and a substantial portion of operating costs are passed on to train operators (subject to a regulatory review by the Office for Rail Regulation every five years). 
HS1 benefits from a long-term debt package, with no major refinancing required during the life of the concession. Its commercial incentives are to increase passenger numbers, while running the railway efficiently, and to offer an outstanding customer experience that drives retail and parking revenues. 
Initial investment

2017

Theme

Transport and Social Infrastructure

Strategy

Income

Country

UK HS1 Key statistics
67

miles of high-speed railway

4

stations

2h16m

London to Paris

90%

less emissions than flying to Paris*

8,500

car parking spaces

115K sqft

retail space
Impact
Our support provided to HS1 through the Covid-19 pandemic shows the value of active financial and stakeholder management to navigate through a crisis. 
Between 2021 and 2022, both the UK and France implemented strict lockdowns and travel restrictions for extended periods. This led to a sharp reduction in passenger numbers for HS1, which caused a similarly sharp reduction in revenues. 
InfraRed worked closely with HS1, bringing additional financial expertise into the company, and moved to daily meetings with management to manage the financial position. We were able to demonstrate to lenders its long-term prospects and creditworthiness and implemented cost savings and working capital management to prevent liquidity shortfalls. At the same time, HS1 worked with the government, train operators, and retailers to help the overall eco-system weather the storm.  
HS1 emerged from the pandemic – arguably the biggest transport demand shock in history – with its business model intact, St Pancras busy again, and no rescue funding required from shareholders. "We are absolutely committed to driving forward a greener, cleaner, and more efficient railway, and it is fantastic to see HS1 making such significant strides towards decarbonising their network"
* The analysis of Eurostar versus air emissions has been based on an independent analysis by Paul Watkiss Associates Ltd. The comparison between Eurostar and aviation is made based on the kg of greenhouse gas emissions (CO2e) per train journey per passenger for an average single trip (based on the average of the outward and return journey)