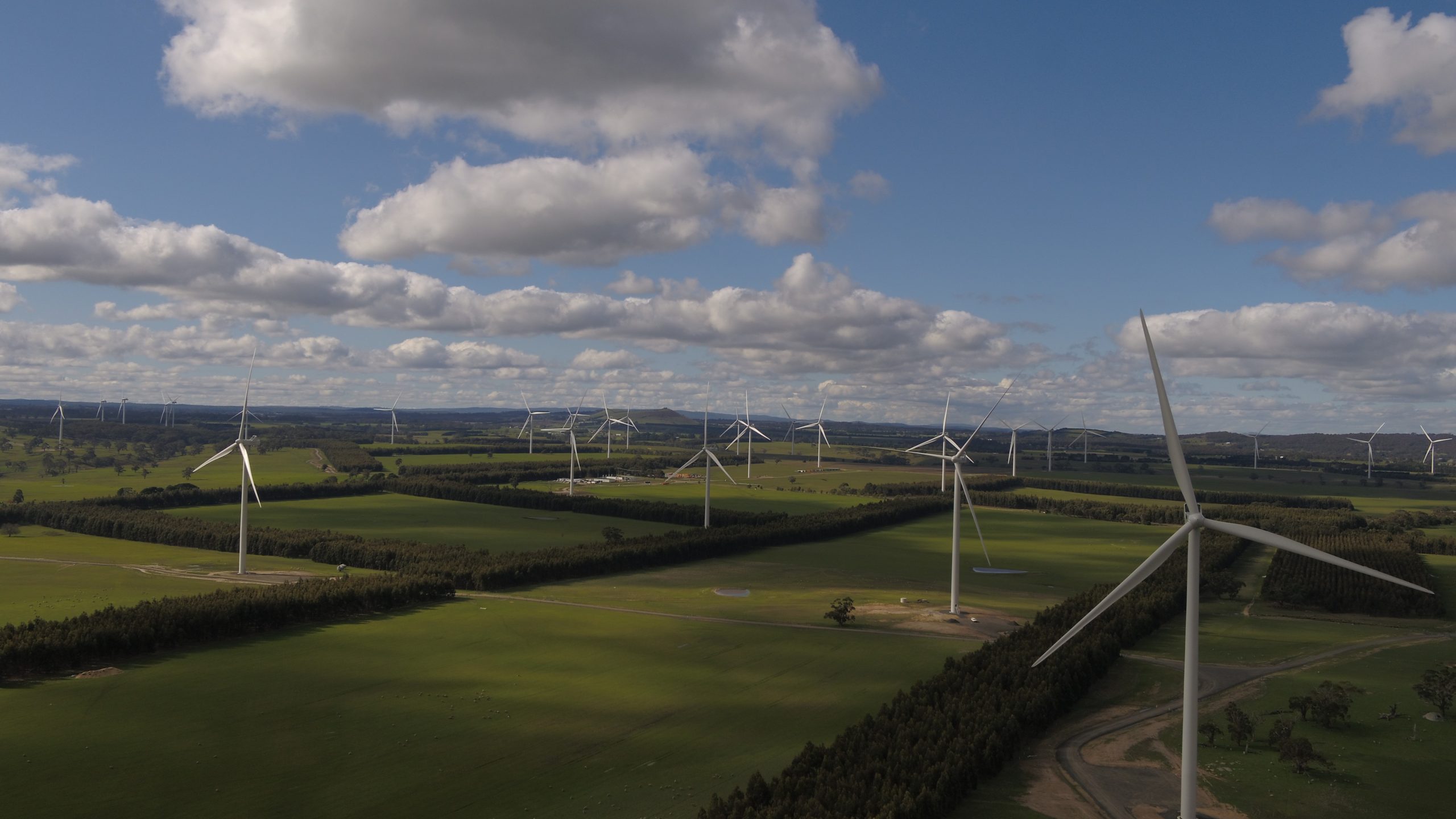 Case study Lal Lal Wind Farm
Powering Australia's renewable future
The Lal Lal Wind Farm project is a 60-turbine greenfield development in Victoria, Australia. Now fully operational, it is a major contributor to Australia's renewable energy future – saving 780,000 tonnes of carbon dioxide every year.
Investment
Lal Lal Wind Farms is a 228MW greenfield onshore wind development. It's comprised of two distinct farms – Yendon Wind Farm (144 MW) and Elaine Wind Farm (84MW) – near Ballarat, in the state of Victoria, Australia.  
InfraRed acquired a minority stake in the project in 2018, playing a key role in its final stages of development, construction, commissioning and early-stage operations. The construction phase coincided with a period of rapid change in the Victorian transmission system and the project successfully navigated these challenges.  
Operational commissioning commenced in 2019 and, with successive generation step ups, it achieved full dispatch capacity in 2021. The Lal Lal Wind Farms are now a major contributor to Australia's renewable future. In 2021, it generated enough electricity to power 56,000 homes* (from our share of Lal Lal's production). 
The project secured multiple additional offtake contracts for its electricity and green certificates during InfraRed's hold period, effectively de-risking the revenue streams. Following this, the project was competitively refinanced in August 2022, and in November 2022 InfraRed successfully exited the investment, selling its 40% equity interest.  
Initial investment / status

2018 / realised November 2022

Theme

Energy Transition & Renewables

Strategy

Capital Gain

Country

Victoria, Australia Lal Lal Wind Farms Key statistics
228

Megawatt gross project capacity

56K

homes powered by our share of Lal Lal's electricity in 2021*

150K+

net tonnes of carbon avoided in 2021*
Impact
This investment showcases our experience in greenfield development opportunities and the way we work with project companies and partners. 
The project was predominantly merchant when InfraRed committed to it and the investment was predicated on a detailed assessment of the risks and future contracting opportunities. Over the development phase a disciplined contracting strategy was implemented with the target level of contracted offtake achieved prior to the completion of commissioning. This included the use of sophisticated derivative products to reduce both price and volume risks.  
InfraRed's ability to assess and manage the active contracting strategy employed for the Lal Lal project is informed by our significant renewables experience across the UK, Europe, and North America. Applying our experience across markets is a key value driver. 
Over the construction and commissioning phase, the Victorian transmission grid experienced challenges with transmission capacity. By engaging with our co-investors and our delivery partners, we were able to develop innovative solutions to meet the technical and commercial hurdles that resulted from these challenges. 

"Over the past four years, InfraRed provided significant support to the Lal Lal Wind Farm project throughout its construction and development phase. Lal Lal Wind Farm, which became operational in 2019, is now making a significant contribution to renewable energy generation in the Victoria region."
* Based on average regional household electricity consumption figures and the IFI Approach to GHG Accounting for Renewable Energy.