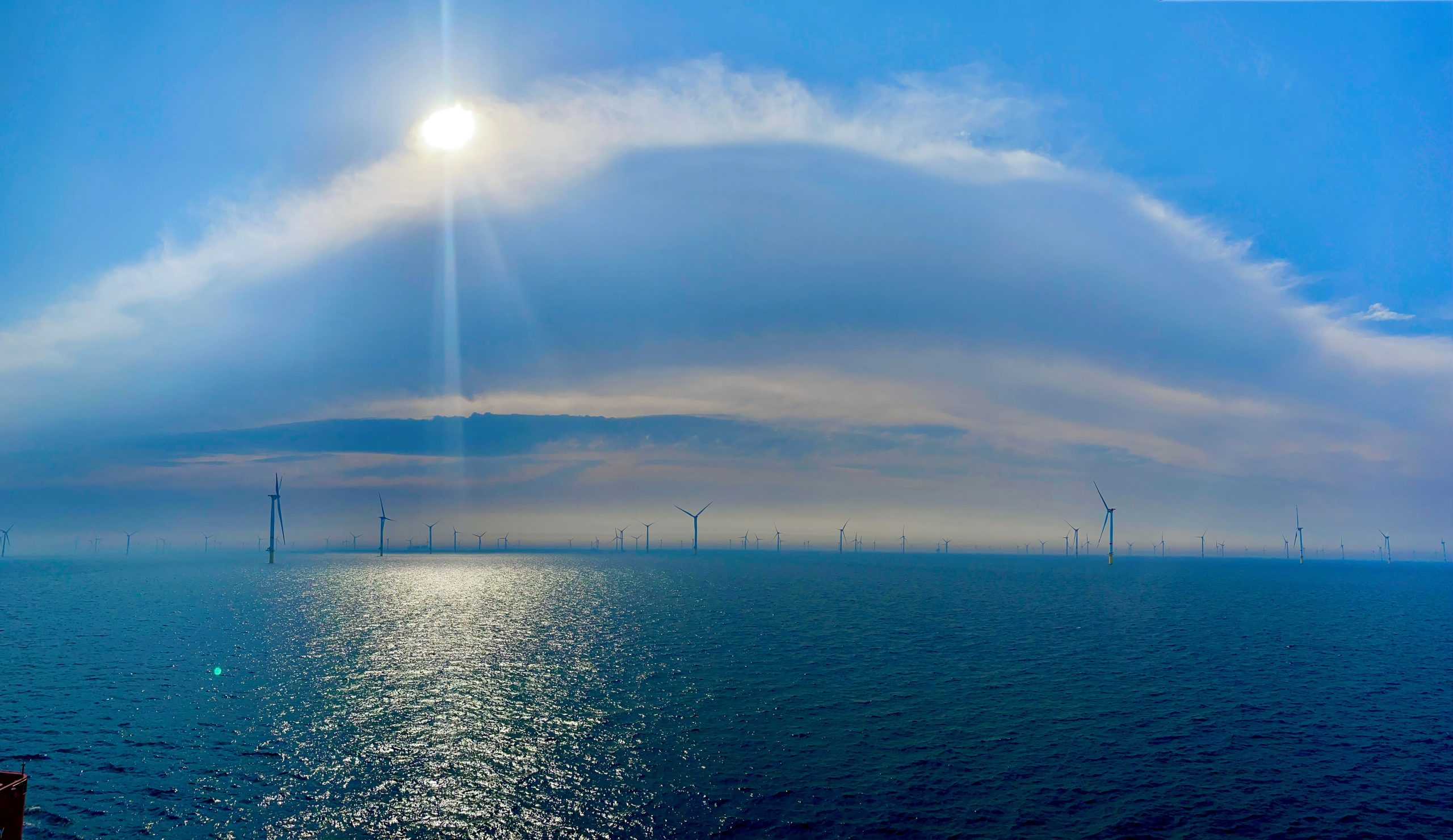 Case study Merkur Offshore
Delivering a major offshore wind project to supply green energy to half a million homes
Helping to rescue and complete the development of a large-scale renewable energy project off the coast of Germany.
Investment
In 2016, a consortium that included InfraRed reached an agreement for the construction and operation of Merkur, a 396MW offshore wind farm off the coast of Germany.
With a capital cost of €1.6bn, the project involved the design, construction, and installation of 66 Haliade 150-6MW turbines, as well as the creation of an offshore substation to collect the electricity and feed it into the German grid.
This was the first large scale commercial deployment of the innovative new GE Haliade turbine. The hub height of a single turbine is more than 100m above sea level, with one of the largest rotors in the industry covering an area equivalent to three football fields. As part of the contract, GE provides full scope operation and maintenance services under a long-term performance contract incorporating availability guarantees and a robust security package.
The construction and commissioning activities were successfully completed in the summer of 2019. Merkur is one of the largest German Offshore wind projects benefitting from long-term tariff support under the German Renewable Energy Act ("EEG").
InfraRed successfully completed the disposal of the Merkur Offshore Wind Farm in May 2020.  
Initial investment / status

2016 / realised May 2020

Theme

Energy Transition & Renewables

Strategy

Capital Gain

Country

Germany Merkur Offshore Key statistics
€1.6bn

capital cost

66

Haliade 150-6MW turbines

396MW

gross total capacity
Impact
The project came with a challenging history.
Windreich, the original developer, became insolvent in 2013. Hochtief, the main contractor, sold its offshore business in 2014. Finally, Areva, the turbine manufacturer, also left the project.
A complete restructuring effort was led first by DEME and then GE to safeguard Merkur's grid permit. The other shareholders, including InfraRed, joined the effort early in 2016, raising $1.2bn of senior debt to ensure the project would go ahead.
A unique dual contract structure was developed to mitigate delivery risks, particularly interface risk, during the construction phase. To achieve this, we brought together a unique combination of specialist legal and financial structuring expertise covering insolvency law, M&A and project finance.
The sponsors collaborated efficiently and transparently as part of a cohesive approach to stakeholder management. This included engaging and negotiating with the representative of the creditors impacted by the Windreich bankruptcy, with the Public Authority managing the permit process, and with senior lenders undertaking detailed due diligence on project risks.
The project was successfully refinanced in July 2018 on improved terms and with the opportunity to optimise the capital structure at completion. The refinancing secured during the construction period was a first of its kind in the offshore wind sector.

"In the early days of the project, when the interests of the shareholders were still less aligned than nowadays, InfraRed's sharp analysis, their negotiation skills and a goal-oriented approach were crucial in bringing all the parties together towards financial close. During the 3 years construction period, InfraRed kept a very good balance between leaving the operational business with the management of Merkur and voicing their suggestions or concerns when the business case was impacted or could be improved."