Case study Recirculate
Creating value through upcycling
Founded in 2021 by InfraRed and two corporate partners, Recirculate sources donated physical items from across their corporate networks and then 'upcycles' them for key workers and those in need.

How it works
Re-circulate is a programme through which the founding partners drive positive social and environmental impacts by upcycling donations of physical items. It has been very successful in sourcing and 'upcycling' bikes and laptops and has now widened its scope to cover other used products such as desks, projectors, and vacuum cleaners.
#1 Donate – Staff, corporate partners, and clients team up to donate unwanted bikes, laptops, or other items.
#2 Renovate – With donated bikes, Recirculate empowers prisoners to renovate them. For laptops, Recirculate refurbishes and 'cleans' them and then reloads appropriate software. The team works with small businesses to refurbish other products.
#3 Locate – The refurbished items are then distributed to key workers and those in need.
This project not only reduces waste and carbon emissions, it also empowers prisoners with trade skills and supports small businesses, all whilst providing valuable goods for those in need.
"This is a great example of how we have collaborated with our business partners to leverage what we each have access to, with the aims of supporting the circular economy and improving social mobility across our portfolio's communities and beyond." Recirculate Key statistics
155

bikes refurbished

20

laptops refurbished

3,000

prisoner hours

29

prisoners City & Guild qualified

1.3

tonnes of CO2e saved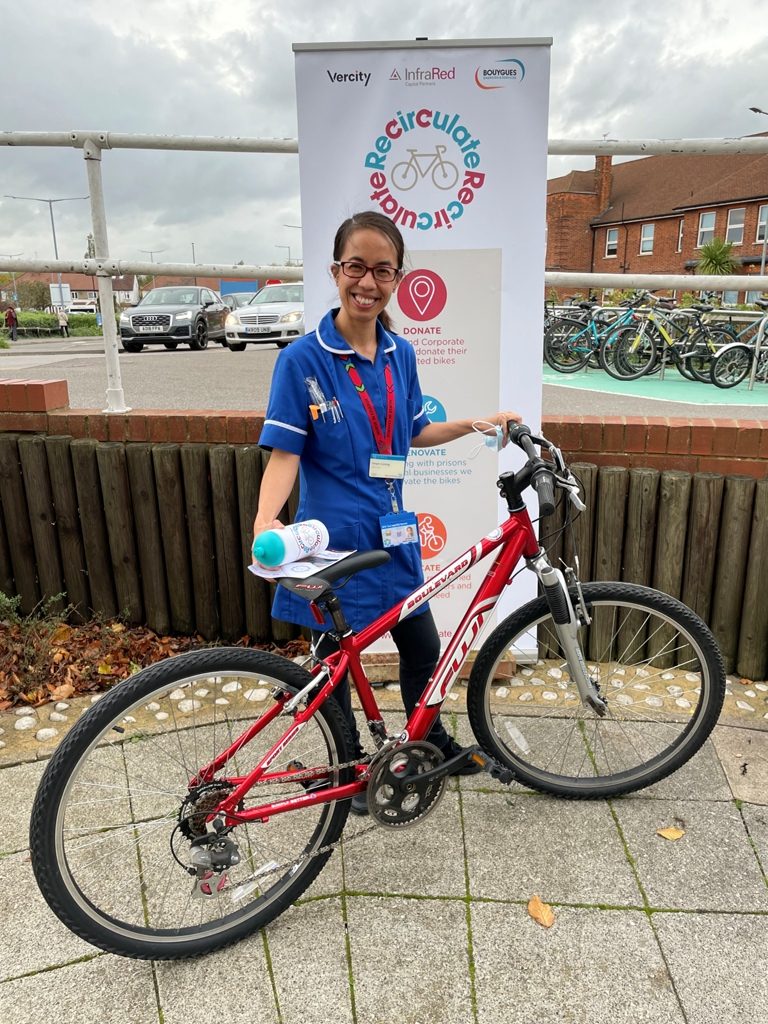 Impact
Just two years in, Recirculate has already given away a total 155 bikes and 20 laptops. The bikes have been gifted to NHS workers and children who have a parent in prison. The laptops have been given to schools in Lewisham for students who cannot afford their own – combatting academic isolation and digital poverty in one of the most deprived areas of London.
As a result of the project's success in Lewisham, InfraRed and its partners are now diverting more of the old equipment from across their corporate networks to Recirculate – with 25 data projectors, 12 interactive whiteboards, 30 industrial vacuum cleaners, and 400 desks being refurbished and re-distributed to schools and hospitals in Middlesex, Peterborough, Lewisham, and Kent.
As well as providing valuable products for key workers and those in need – Recirculate also helps to rehabilitate prisoners and improve their job prospects upon release. Prisoners at HMP Aylesbury and HMP Hewell have received bike mechanic training while serving their sentence, with a number of them earning City & Guilds qualifications (24 City & Guilds Level 1, and 5 Level 2).
The work Recirculate does also creates carbon savings. We estimate that by diverting bikes from landfill which weigh around 9kg, the project has already saved around 1.3 tonnes of CO2e greenhouse gas emissions associated with the processing of landfill materials. Of course, Recirculate has also helped get more people cycling which avoids carbon emissions from cars and saves the energy consumption of buying new products.
"Developing skills as a bike mechanic has given me a more positive outlook. I'm more confident, feeling positive about my future, and happy to be doing something productive for a good cause."