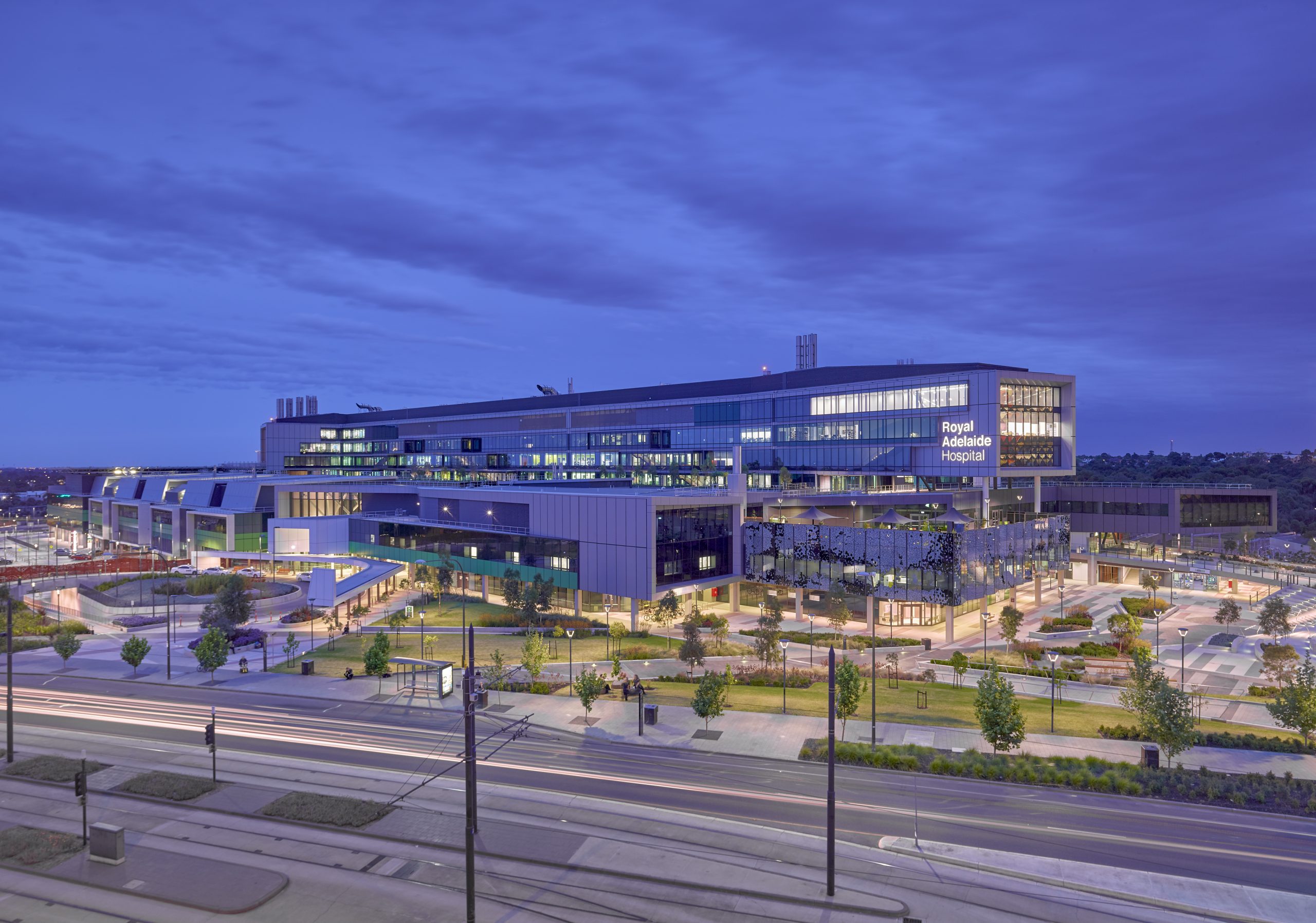 Case study Royal Adelaide Hospital
Creating one of Australia's most advanced hospitals
C

ompleted in

2016,

The Royal Adelaide Hospital

is

one of

Australia's

largest

,

most technologically advanced

, and

sustainable

hospital

s

.
Investment
Spanning the equivalent of three city blocks, the new Royal Adelaide Hospital (RAH) is one of Australia's largest hospitals – with 800 single rooms, including 700 with en-suite. It was also the first public hospital in Australia to provide every inpatient with the privacy of a single room. 
The 13-hectare site contains four hectares of landscaped parks and green space and is designed to maximise natural light and privacy, creating a comfortable healing environment. It is also considered to be one of the most technologically advanced and sustainable hospitals in Australia – and was the first large-scale hospital complex to be awarded a 4 Star Green Star 'As Built' rating from the Green Building Council of Australia*. 
In 2011, the State of South Australia awarded InfraRed and a consortium of partners a 35-year concession to design, construct, commission, finance, operate, and maintain the hospital, using a typical availability-based model. InfraRed was the largest equity investor. 
Completed in 2017 – and successfully refinanced in 2021 – the development was the largest greenfield hospital project in Asia Pacific, winning PFI Magazine's PPP Deal of the Year 2011. InfraRed's investment was successfully realised in May 2023.
Initial investment / status

2011 / realised May 2023

Theme

Social & Transport

Strategy

Capital Gain

Country

Adelaide, Australia Royal Adelaide Hospital Key statistics
400k

outpatients a year

85k

inpatients a year

4

Star Green Star awarded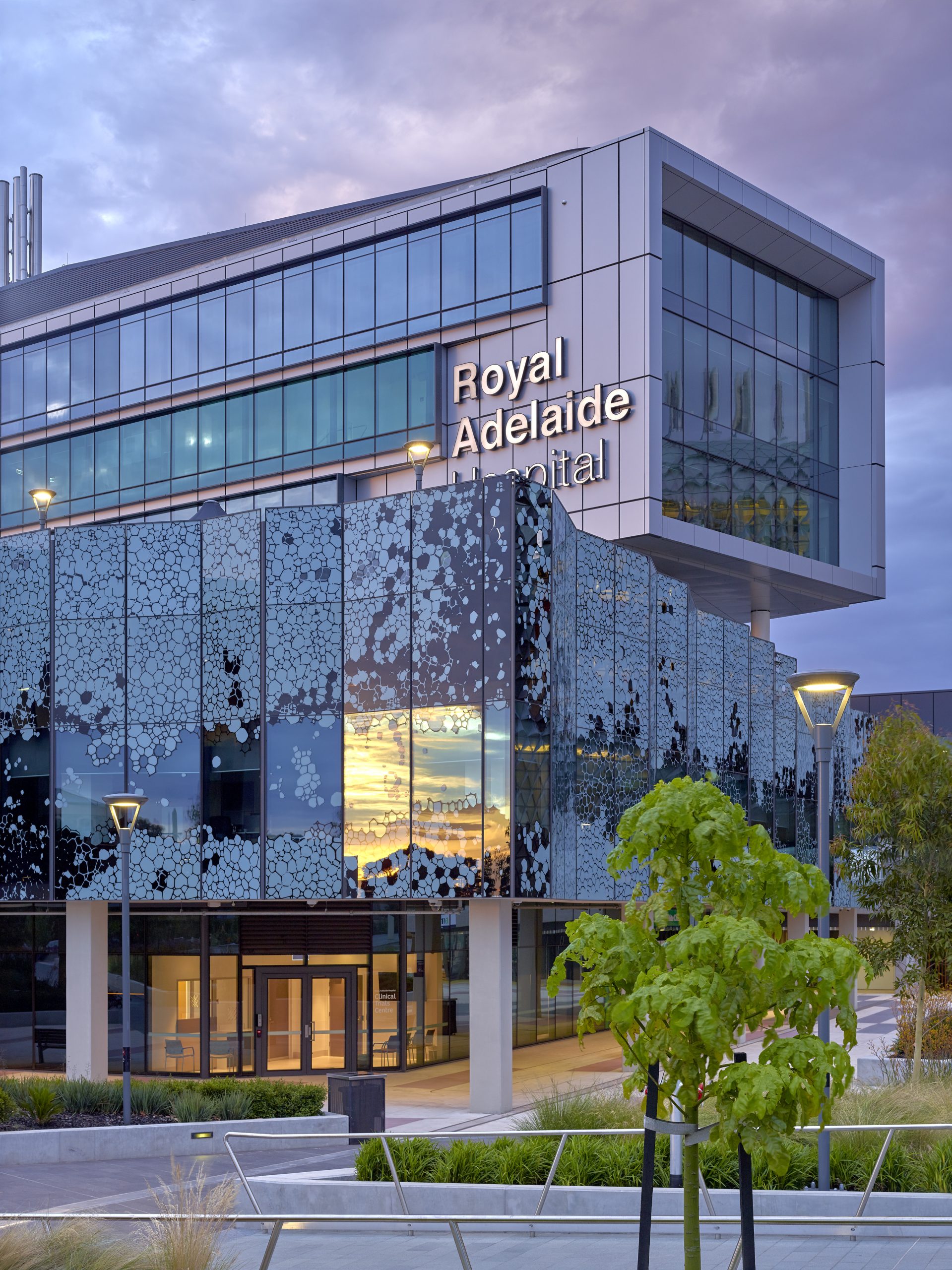 Impact
Our input into the design, construction, and operation of RAH exemplifies how we work with project companies and partners to ensure our sustainability and investment objectives are aligned.
Bringing with us significant experience in the UK healthcare market, we created operational links between RAH and our UK hospital investments to facilitate two-way communication for the benefit of all.
And by engaging with the other shareholders in the consortium – and focusing on ESG considerations – the project introduced environmental and social measures much earlier than similar facilities in Australia. For example, RAH has a dedicated Aboriginal and Torres Strait Island Liaison unit, with a specialised focus on indigenous health. During construction, sustainable materials were used. And the hospital features a number of climate positive innovations, including smart meters for water and power, energy efficient fittings, and a cogeneration system that recycles waste heat into energy for the building.
This focus on sustainability enabled the project to successfully refinance in 2021, replacing the existing debt facilities by securing the largest project finance sustainability loan in Australian history at that time. This significant $2.2bn (AUS) loan recognised the green and social credentials of the project. In particular, that RAH was the first large-scale hospital complex in Australia to receive a 4 Star Green Star 'As Built' rating from the Green Building Council of Australia.

"A game changer for healthcare in South Australia"