Case study Charity Dodgeball
Raising funds for our communities
Charity Dodgeball 2022
After a brief hiatus during the Covid pandemic, we resumed hosting our annual flagship charity event in September 2022 – our fifth to date.
A total of 25 teams from across our business partners and service providers entered the fray – resplendent in fancy dress as usual – raising more than £50k for SOFEA and 4Louis, who InfraRed works closely with as part of our Portfolio Impact strategy. To date, the event has raised more than £150,000 for good causes.
Following 100 gruelling games, the team from Cameron Barney emerged victorious after a dramatic finale. The HS1 team took best fancy dress, for their resourcefulness in sourcing their green costumes from local charity shops.
Launch

2016

Money raised to date

£150,000

Number of years

5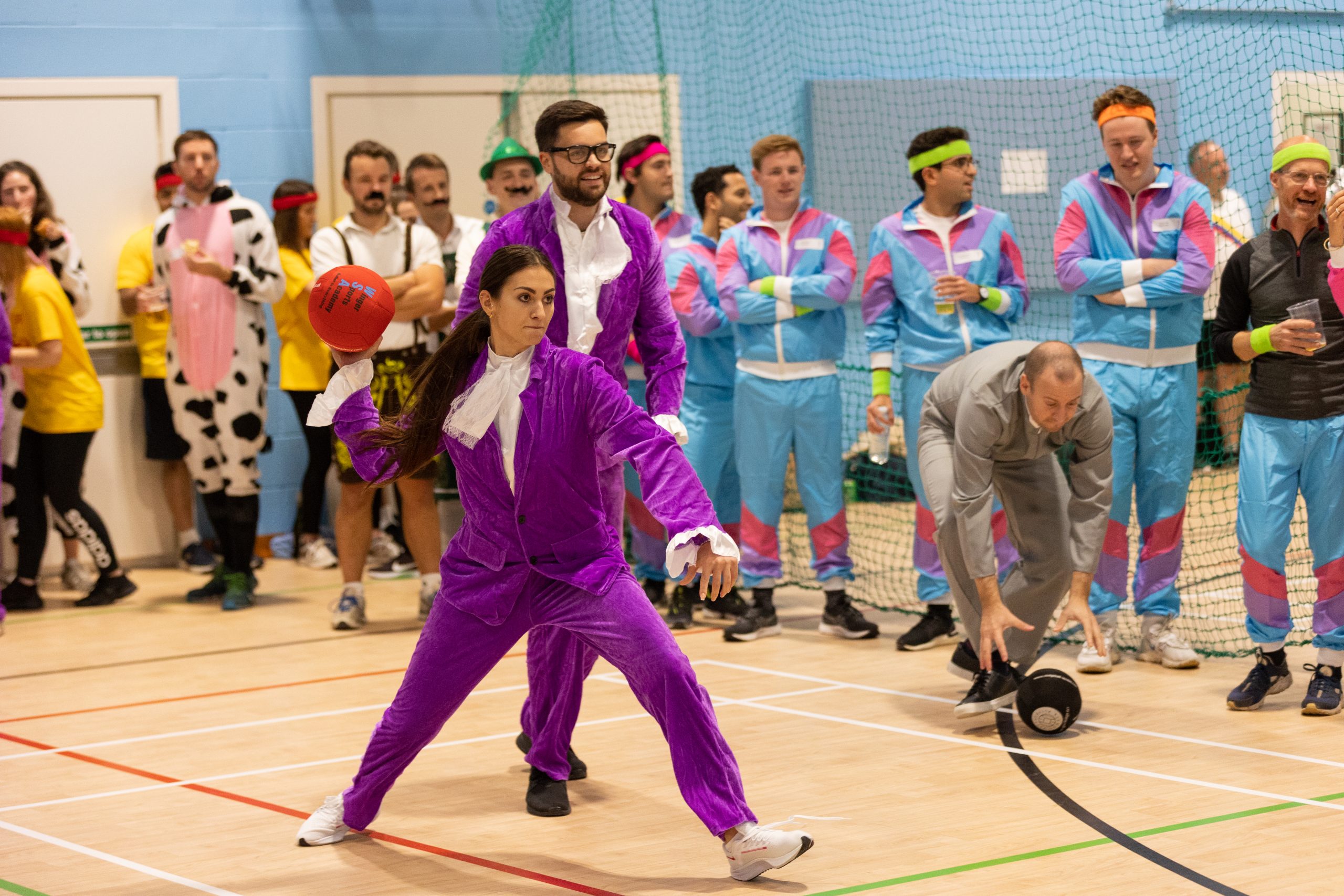 The money raised from this year's event will help fund the maternity bereavement suite at Pinderfields Hospital, managed by 4Louis – a charity which supports families through miscarriage, still birth, and child loss. It will also help fund installation of kitchen equipment, donated by our Oxford John Radcliffe hospital, and to establish a cooking educational program run by the charity SOFEA, whose mission is to provide education, employability, and wellbeing programmes for vulnerable young children.
Since its inception, our Charity Dodgeball event has raised more than £150,000 to deliver positive impacts like these:
A CineGym for the Paediatrics Department at the Queen Alexandra Hospital in Portsmouth. This is a dual-purpose facility, offering children with cystic fibrosis enhanced rehabilitation through a specialised gym and cinema room.

NeoNatal Phototherapy and Invivo Microscopy equipment, for the Royal Manchester Children's Hospital.
Improvements to school learning facilities and educational activities for students at Greenvale School – a community specialist school in the borough of Lewisham.
A new external classroom for Talbot School – a community school in Sheffield for young people who have severe and profound learning difficulties, and benefit from a less formal learning environment.

"Our annual flagship fundraiser is not only a huge amount of fun, it shines a light on charities that provide much needed services to the communities where our assets are located in the UK. It's a great way to support them, and to actively align our employees and business partners behind our corporate vision."